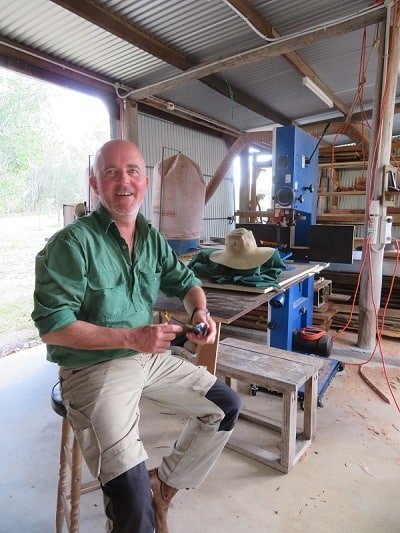 Meet the Artist
Charles (Charlie) McGuire Born. Falkirk, Scotland, 1969.
After a 25+ year career as an Engineering Surveyor, travelling the world, Charlie put down roots in the foothills of Wolvi, a lush bushland locality at the north end of the Sunshine Coast, half an hour north of Noosa.
Here, he decided to pursue his passion for timber.
With dedication to excellence and innovative, problem solving, his designs are original with meticulous attention to detail, gaining him a reputation for real craftsmanship.
As an award winning sculptor and furniture maker he pushes the limits and pursues the possibilities of what can be created from timber. Key to any design is ensuring that the natural beauty of any single piece of timber is highlighted. Generally speaking this approach is the first principle behind all of the design work that he does.
Individuality is also a key element of what he creates, which is why he does not do any production runs of his designs.
Please note that all of the resources used by Crooked Timber are entirely sustainable. No animals are killed or injured during the recovery of these resources however we may from time to time inconvenience some microbes and the like.
Collaboration nurtures ideas…
Part of this site has been allocated to providing other local artists an opportunity to have their work displayed and available on the internet. If you live in the Wolvi area or surrounds and would like to take up this opportunity feel free to contact us and we'll see what we can do.